14-Bolt Disc Brake Conversion Kit, Single Rear Wheel For All Axles, Build Your Own
From: $365.00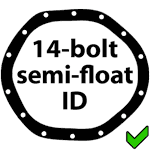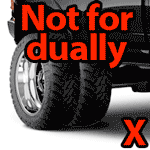 Note: This kit fits all 14-bolt single rear wheel axles.
Upgrade the brakes on your GM 14-bolt axle with this disc brake conversion kit! Our kit is available for an older style full float, newer style full float, 6 and 8-lug semi float, and more. These are for single rear wheel GMC and Chevy 14-bolt rear ends only. If you have a dually check out our disc brake conversion kits for dual rear wheel GMC and Chevy 14-bolt rear ends.
Parts are OEM quality (or better)
Available add-ons include performance rotors and powder-coated HD calipers
Everything you need to do both sides of the 14-bolt axle is included in every kit (except brake fluid)
Free priority shipping. Configure your kit below!

Description
Converting the drum brakes on your 14-bolt rear axle to disc brakes has a lot of benefits:
Improved braking performance
Easier brake maintenance
Increased resistance to brake fade
Reduced unsprung weight on the rear axle for a better ride
Improved brake pedal feel
Whether you're upgrading the drum brakes on your old pickup's rear axle, or adding disc brakes to 14-bolt axle for a project vehicle, we've got you covered. And you'll love your 14-bolt disc brake setup when the project's done.
Every Lugnut4x4 disc brake conversion kit includes all the parts you need to convert your drum brakes to disc. All you need are the appropriate tools, brake fluid, and a little elbow grease.
NOTE: This kit is not for dually axles. Not sure if you have a full-float or semi-float 14-bolt axle? Not sure if you have a slide-on drum or not? No problem! Check out our 14 bolt identification chart and you'll know exactly what you need.
Our 14-bolt kits include:
(2) GM 12.5″ standard 3/4 ton truck rotors
(2) 3/8″ thick laser-cut brackets
(2) GM standard duty JB6 3/4 ton truck brake calipers with steel pistons. Heavy-duty JB7 caliper upgrades are available.
(2) caliper pins
(1) set of four high-quality semi-metallic brake pads. Ceramic brake pads are available as an upgrade.
(4) copper washers
(2) banjo bolts
(2) new inner hub/wheel seals
Anti-rattle clips
(2) flexible brake hoses are included (braided stainless steel hoses available)
All bolts are Grade 8, much stronger than the standard Grade 5 you find in most kits
Please note: You can buy our 14-bolt disc brake mounting brackets as part of this kit, or you can buy the brackets by themselves here.
Also, if you need a 24″ braided stainless steel brake hose, we do not offer them with this kit. Instead, order this 14-bolt disc brake conversion kit without brake hoses, and then add the 24″ stainless steel hoses here.
Lift kits and hoses: Remember, the brake lines connect the caliper to the hard line on the axle. Since the hose does not go from the caliper to the frame, the amount of lift does not matter.
Interested in adding an emergency brake? If so, we offer calipers with integrated emergency brakes (just select that option above). This will give you a manual e-brake that hooks up to your cables.
14-Bolt Disc Brake Conversion Kit Installation
Anyone with a basic understanding of brake systems will find the installation simple. Our only bit of advice: The rotor goes on the backside of the hub.
We include a parts list with instructions in the kit so that you can order replacement parts locally if you wan
Additional information
| | |
| --- | --- |
| Rotors | High Performance Slotted Rotors (+$80), Standard Rotors |