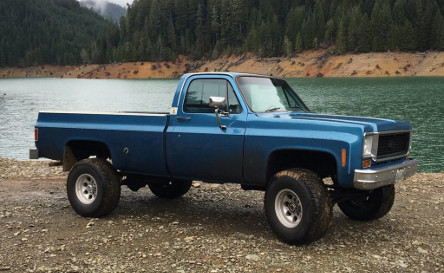 Disc Brake Conversion Kits, Axles, & Accessories
We provide the best 8 lug disc brake conversion kits and parts at a great price and we ship fast!
All prices include priority mail shipping to anywhere in the USA
Please click one of the pictures below for more information
Front Kits
Rear Kits
Parts
Axles
Our history
About 2003 I started getting into 4-wheeling. I had a 78 Bronco I was building. I upgraded the axles to a Dana 70 rear and 8 lug Dana 44 front. I also did every other brake upgrade I could find on the internet including a different master cylinder and booster. I never was happy with the brakes. I could adjust the rear brakes and it would be OK for awhile, but not for long. I felt like I had to push the pedal through the floor to get it to stop when on the trails. Finally I ordered a disc brake kit for the rear and all my brake problems went away. I paid over $400 for that conversion. I thought that was way too high so I started putting together my own kits. Now I am selling a complete bolt on disc brake conversion kit for most axles for only $315 including shipping to anywhere in the USA!
Why Lugnut4x4?
  I try to have the best price. I don't know of anyone cheaper. My basic kit is $315 shipped. Other companies are similar on price, but charge very high shipping.
  I try to provide the best quality. I use custom made stainless steel banjo bolts. Why? Because regular ones rust and they can be hard to paint. I use Wagner pads instead of cheap China pads. I include new wheel seals. If you are going to have it apart, why not put new seals in? I also provide all new grade 8 zinc coated hardware.
  I ship fast! I use priority mail so I can ship anywhere in the USA in 2-3 days. My competitors use ground service.
  Options! – I have three different calipers to choose from, clockable brackets, different pad options, and even slotted rotors for most kits.
  Nobody can beat my service. As a small business all questions are answered by me, the owner. I specialize in brake kits and have
kits for axles that nobody else does. I have all Lugnut4x4 emails forwarded to my phone so I can reply within minutes most of the time. Every kit includes a business card with my person cell phone also.
Some Reviews from our Facebook page :
I bought and installed a kit about a year ago. Best thing I've done to my truck so far. I run 46″ XZL Michelin military tires. They weigh 250 pounds apiece. The Lugnut 4×4 kit help the breaking tremendously. I also used the Eldorado calipers and when I set the parking break they hold the truck with no problems. Customer service is top notch and shipping was very fast.
– Buddy Smith
I bought a brake kit for the my 79 F250 axles. Shawn @ Lugnut 4×4 is a Axle Wizard. He knew the answer to all my questions. And helped me with questions I didn't know to ask. He is humble and his moral is top notch. Knowing I got my brake kit from means that my hardware came from a reputable source backed with character and good business. Lugnut 4×4 supplied every thing I needed in the kit, gave me a list of parts and part numbers for my technical journal, and is around anytime to answer my calls and help me with any question I have. Very helpful and top notch customer service! Oh did I mention his kits were the cheapest in the industry?! Lugnut 4×4 will take care of you.
– Nick Dresser
Shawn is amazing to work with. I blew the seal out of one of my parking brake calipers in Moab. Called him up and he warranted it out. Also used his kit on a FJ with one tons. Great company to work with. Will definitely use his products again and tell everyone how awesome he is. Thanks again Shawn.
– Jake Suazo