Find Your Brake Conversion Kit Below:
Here's what makes Lugnut4x4 special:
The best quality kits. Every part in our converison kits is quality:

We use steel banjo bolts, because regular bolts rust.
We use grade 8 zinc coated hardware for maximum rust resistance
We use brand name brake pads instead of cheap imported pads.

The most options. Most of our kits have three different calipers to choose from, clockable brackets, different pad options, and slotted rotors are available for most kits too.
The best pricing. Our basic disc brake conversion kits start at $315, including priority shipping on US orders.
Finally – and most importantly – no one can beat our service. Lugnut4x4 is a small, family business, and questions that aren't answered in our FAQs are answered by Shawn Miller, the owner and founder. But don't take our word for it – see what our customers have to say about us on our Reviews page.
Our disc brake conversion kit history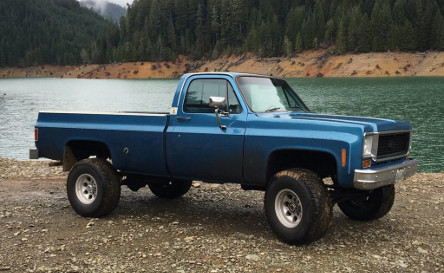 Lugnut4x4 exists because our founder, Shawn Miller, wanted to buy a good, affordable disc brake conversion kit for his truck way back in 2003 and couldn't find one. So, he figured out how to make his own kit, and today we offer a large selection of disc brake conversion kits for Dana 60 and 14 bolt axles.
We're proud to offer the best quality brake conversion kits for Dana 60 and 14 bolt axles at the best pricing available. We make it easy to get the exact kit you need with extensive options on every kit, and if you have a question or a problem, we're ready and willing to help.
What Our Customers Say:
daniel johnson
2023-01-29
Shawn was extremely helpful with me when my plow truck went down . He told me what I needed to get locally to get it up and running in no time. I really appreciated it and love my conversion kit I bought a few years back from these guys! Good experiences with these guys! Thanks again!
Good products. I have purchased front and rear disc brake conversions for an older D60 and everything was as described and worked great. The customer service is top notch, very responsive and professional. Recommend.
I ordered a disc brake conversion kit, had a few questions pertaining to the kit fitting my application, emails were answered within a few hours, shipping was very fast, all parts were neatly packaged undamaged and arrived quick. Parts are of good quality and exactly as described. Instructions are easy to follow and we'll written. I even asked another question after I received my order and was quickly answered again. Buisness can't get better than this. 10/10 highly recommended!
Junk products. Purchased the 14bff disc brake conversion kit costing me 600+ dollars. The back pads have an 1/8" edge around the lip where the pad isn't contacting the rotors. His brackets to make the parking brake work with the el dorado calipers are stamped wrong as I can only get one side setup right. I've taken it to 3 brake shops and all have told me the brackets made to work with this kit are junk and incorrect.
I ordered some e brake hardware for my rock crawler. I ran into a problem with my existing calipers when installing the new hardware that had nothing to do with Lugnut's hardware. Its a longish story, but the short version is that Lugnut went WAY above and beyond to help me out. FAR EXCEEDED MY EXPECTATIONS regarding customer service! Oh, and the hardware I bought is outstanding was well!!
I ordered a 14 Bolt disc brake conversion with E-brake calipers and everything arrived super fast! All of the parts fit perfectly and the swap was much easier than I thought it would be. Very happy with the fitment and quality of the parts. I like that they have lots of options for calipers, pads, brake lines, and lugs! It makes a huge difference when everything is in stock and fits right the first time!
Bought a Chevy D60 Front 3/4T bracket set. Calipers wouldn't fit as a result of the brackets being bent wrong. Shawn says they've been having complaints of the tabs not sitting parallel to the rotor and that I could go ahead and "just hit it with a big hammer or bend with a crescent wrench." Bracket looked terrible after that and still isn't sitting straight. Refuses to give a refund. Buy the RuffStuff Specialties bracket instead.
The rear disc brake conversion kit I received for my 14-bolt was spot on. It was shipped quickly, came with great customer service, and bolted on in a snap. The factory front disc brakes were much more troublesome for me to work on than the rear brakes were to upgrade with this kit. I upgraded rear drum to disc on my 1994 Chevy K2500 4x4 full float 14 bolt. Thanks for the great deal on a great product Shawn.
How Lugnut4x4 Got Started
About 2003 I started getting into 4-wheeling. I had a '78 Bronco I was building. I upgraded the axles to a Dana 70 rear and 8 lug Dana 44 front. I also did every other brake upgrade I could find on the internet including a different master cylinder and booster. I never was happy with the brakes. I could adjust the rear brakes and it would be OK for awhile, but not for long. I felt like I had to push the pedal through the floor to get it to stop when on the trails. Finally I ordered a disc brake kit for the rear and all my brake problems went away. I paid over $400 for that conversion. I thought that was way too high, so I started putting together my own kits.