14-Bolt Full-Float Disc Brake Kits: Cab & Chassis Hubs on SRW Axle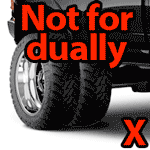 These are disc brake conversion kits for the newer style 14-bolt axles produced between 1988 and 2000, using cab & chassis hubs on a single rear wheel axle. These kits are for full-float 14-bolt axles with slide-on brake drums. If you have an older style 14-bolt axle or you have a semi-float axle, you'll need to look at our custom conversion kits, where you can design your own configuration.
If you're not sure which 14-bolt axle you have, no problem! Read our 14-bolt axle identification guide and you'll know what you have.
Showing all 7 results