Budget 14-Bolt Disc Brake Conversion Kit, Slide-On Drums Single Rear Wheel Axle
$440.00
Description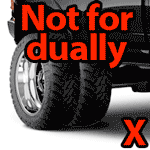 Whether you're upgrading the drum brakes on your old pickup's rear axle, or adding disc brakes to a 14-bolt axle for a project vehicle, we've got you covered. And you'll love your 14-bolt disc brake setup when the project's done.
Converting the drum brakes on your 14-bolt rear axle to disc brakes has a lot of benefits:
Improved braking performance
Easier brake maintenance
Increased resistance to brake fade
Reduced unsprung weight on the rear axle for a better ride
More clearance for wheel
Every Lugnut4x4 disc brake conversion kit includes all the parts you need to convert your drum brakes to disc. All you need are the appropriate tools, brake fluid, and a little elbow grease.
NOTE: This kit is not for dually axles. Not sure if you have a full-float or semi-float 14-bolt axle? Not sure if you have a slide-on drum or not? No problem! Check out our 14 bolt identification chart and you'll know exactly what you need.
This basic 14-bolt kit fits all full-float newer axles with slide-on brake drums. It includes:
(2) Standard truck rotors

Rotor mounting – slide on rotors

(4) Semi-metallic brake pads
(2) JB6 brake calipers with steel pistons
(2) 3/8″ thick steel caliper mounting brackets
(2) Rubber brake hoses
(2) Inner hub/wheel seals
(4) Copper washers
(2) Banjo Bolts
Need an emergency brake?Click here to upgrade for $250.00 more.
Do you want to change a few options? Click here to customize the kit to your needs.
14-Bolt Disc Brake Conversion Kit Installation
Anyone with a basic understanding of brake systems will find the installation simple.
We include a parts list with instructions in the kit so that you can order replacement parts locally if you want.