Cost Of Changing Drum Brakes To Disc Brakes
Are you thinking about switching to disc brakes? Are you wondering how much it'll cost?
We wish we could give you a simple answer, but the cost of switching to disc brakes varies a lot. It depends on several factors:
Brake hardware (i.e. any special brackets or conversion hardware you'll need)
Whether or not the brake hydraulic system needs modification
Labor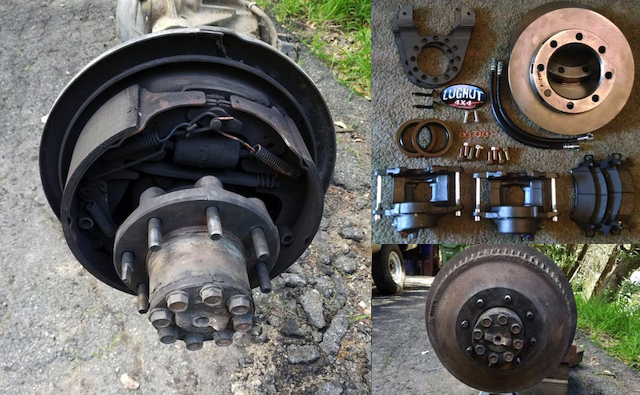 Let's talk about each one in more detail:
Brackets And Hardware
Some vehicles need more hardware than others to switch to disc brakes. Switching to disc brakes is a pretty straightforward process that involves:
Removing the old drums
Attaching a set of brackets to your axle
Installing the disc brake system (rotors, calipers, etc.)
Some axles need special brackets and/or conversion hardware. Other axles only need basic brackets and hardware. For example, the 14 bolt semi-float axle needs more hardware than the Dana 70 axle does. That's why a 14 bolt semi-float disc brake conversion kit costs more than a kit for the Dana 70 axle.
Depending on what axle you have, it may be hard to find the right brackets. Some people make their own brackets with a CNC plasma or laser cutter. It's a complicated job that requires:
Accurate dimensions
Access to a CAD system and a CNC cutter
Are you in a situation where you need special brackets and/or conversion hardware? You'd be much better off ordering a quality kit made for your axle. Yet, expect to pay a little more than a standard kit because of the special brackets and/or hardware included.
Adjustment Of The Brake Hydraulics
To function properly, your brake system needs sufficient hydraulic pressure. The hydraulic pressure could be thrown out of whack during the conversion process. There are two things that can cause this to happen:
Air can get into the brake lines during installation. In that case, you need to bleed the brakes to get the air out.
Both disc and drum brake systems are operated by hydraulic pressure. Depending on the calipers you choose, your new disc brake system may need more or less hydraulic pressure than the old drum brake system. In that case, you may need to modify the brake's hydraulic system. Usually this means upgrading the master cylinder.
Either way, it takes time. That means more money in labor.
Labor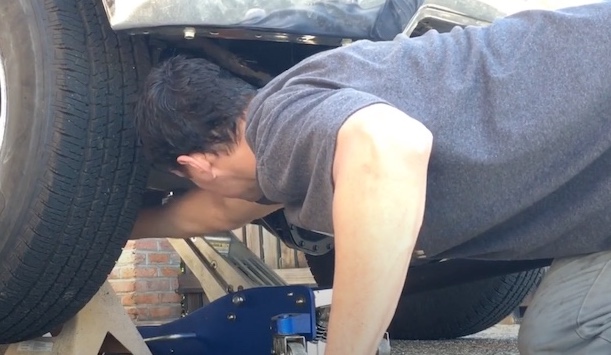 Converting to disc brakes can be a big job. An experienced mechanic will take about 4 hours to install a disc brake conversion kit. If you choose the emergency brake option, add an extra hour to the job. Some kits such as semi-float kits and weld on kits take a little longer, too. Labor usually costs about $100/hour, so expect to pay about $400-$500 for labor.
If you have some experience, you could tackle this project yourself. This way, you'll save a good chunk of change on labor.
You'll Save Money With A Disc Brake Conversion Kit
There are several different ways to gather the parts you need to convert to disc brakes:
Buy the brackets and source the rest of the components
Make your own brackets and source all the components yourself
Buy a complete disc brake conversion kit
The last option is the cheapest one for the reasons outlined here. To sum it up:
The costs of all the parts and hardware add up
It takes a lot of effort to make just one set of brackets
Piecing together a kit is a time consuming process
It's just easier to buy a whole kit – or even a partial kit – with all the parts you need.
Lugnut4x4 Is A Cost Leader In Disc Brake Conversion Kits
At Lugnut4x4, our high quality disc brake conversion kits are quite affordable. We offer:
Our kits affordable. You'll save quite a bit of money on labor with them, too, because we design our kits to work with the OEM brake system. This keeps costs to an absolute minimum. For example, we design our conversion kits to work with the original master cylinder.
All our disc brake conversion kits are axle-specific. That means every kit has all the parts, brackets, and hardware needed for the axle it's designed to work with. You don't have to run out and grab an extra part or put forth a lot of effort to make the kit compatible with your axle.
Do you have any questions about our disc brake conversion kits? You're welcome to contact us!
PLEASE NOTE: When it comes to disc brake conversion kits offered by Lugnut4x4, all our kits are intended as bolt-in replacements. This is because our kit is designed to work with the standard OEM brake system (including master cylinder and proportioning valve). As long as you're installing one of our disc brake conversion kits on an original vehicle application (meaning it's not an axle swap), the existing brake system will work just fine.
When you buy a Lugnut4x4 disc brake conversion kit to upgrade your original drum brakes, we send you everything you need (except the brake fluid).