Which Heavy Duty Rear Axle Does My Ford Truck Have?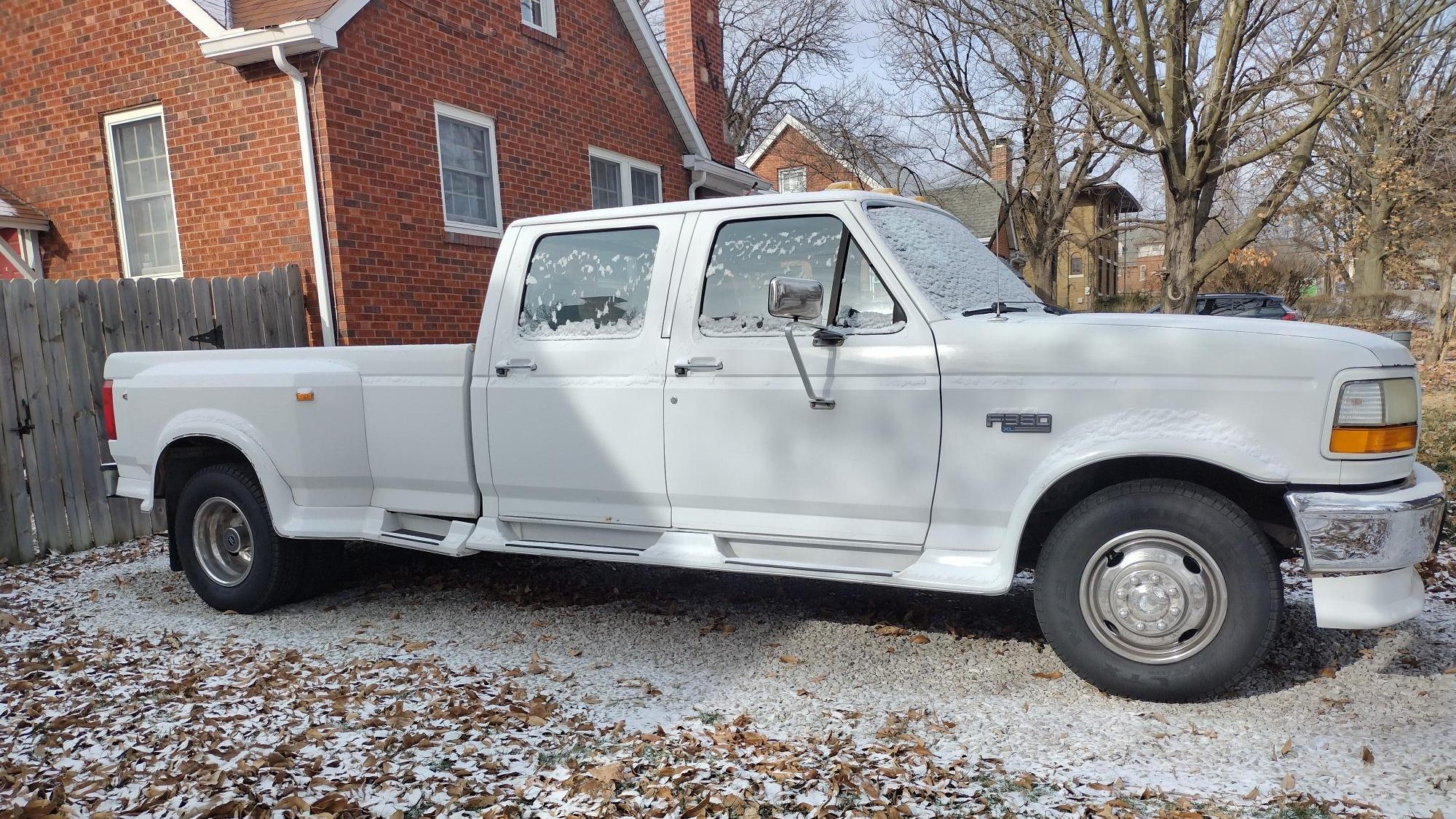 Discover Ways to Identify Which Rear Ford Differential You Have
Up until 2000 most heavy-duty trucks came with either a 3/4-ton or 1-ton axle. But this doesn't mean that your Ford truck produced during this period has one of those stock axles. Over the years, for whatever reason, people change out the axles on their trucks and that's why it's important to be able to identify these axles outside of knowing what your heavy-duty truck is "supposed to have".
1979 and before single rear wheel trucks got a Dana 60 rear axle from the factory. This is a relatively light-duty axle and should be considered as a 3/4 ton axle even though it was also put in the back of an F350 truck. The Dana 60 front axle is a 35 spline axle that is equivalent to a Dana 70 rear. The Dana 60 rear is equivalent to a Dana 44 font. In 1980 Ford started using the Dana 70 rear axle as the only option until they switched to the Sterling 10.25 in 1985. The sterling 10.25 axle was also sold as a semi float, but we don't offer a kit for that axle because it's so very rare.
The good news: Checking which rear axle you have on your Ford truck is a fairly easy task. All you have to do is get a good look at your differential cover and know what you're looking for.
What Does Your Differential Cover Tell You?
There are a few reasons why you need to know what rear differential you have or need. One reason is if you are going to use your truck for hauling, you need to make sure it can handle the load. Another reason is you plan to convert your brakes from drum to disc, you have to know what axle you have. Or maybe your old axle is bad and you need to replace it. When buying a used axle you want to know how to determine if it's the right axle for you.
First, what tools do you need to determine which rear axle you have? Your eyes and maybe a tape measure should be it. When looking at your Ford differential cover there should be 10 to 12 bolts holding the cover to the differential.
A Differential with 10 bolts? The Dana Rear Axle
So by now you have either crawled under your truck or looked at the used rear axle for sale and counted the bolts. If you counted 10-bolts you have a Dana rear differential. This is important to know because the 10-bolt rear axle isn't just for Ford trucks.
The Dana axle is actually found on many other makes, including Jeep, Dodge, and GM vehicles.
In addition to the 10-bolt Dana fitting many different makes, there are also several different versions.
If your rear axle has 8 lugs it's one of the following:
Dana 60 rear axle has 16 or 30 splines
Dana 70 rear axle has 32 or 35 splines. Some really old ones had 23 splines.
Dana 80 rear also axle has 35 or 37 splines
Not to confuse things further BUT there are also 3 major versions of the Dana 60 rear differential…
I am Looking at a Dana 60 rear axle, but Which One:
GMC, Chevy, Jeep, Dodge, and Ford trucks all came with Dana 60s. Are they interchangeable? Yes and no. From the 1960s through the 1980s the Jeep, Chevy, and GMC Dana 60 rear axles are pretty much identical. The Ford and Mopar built Dana 60s, however, are different.
How can You Tell if a Dana 60 Rear Axle Is Built For Your Ford Truck?
Look up the BOM number on a Dana 60 to determine which axle you have, or
Just look at the drum backing plate and count those bolts.

If the drum brake backing has 7 bolts it's a GMC, Chevy, or Jeep axle

These 3 are interchangeable.

If the drum brake backing has 4 bolts it's either a Dodge or a Ford

These are NOT interchangeable.
How to Tell if Your Dana 60 is a Ford or Dodge Rear Axle
Take a closer look at the bolt pattern on the back of the drum backing plate. The Ford and Dodge drum backing bolt patterns are slightly different.
The Dodge Dana 60 rear axle drum backing has a perfectly square bolt pattern.
The Ford Dana 60 has a rectangular pattern but the variation is slight.

Since the difference in the patterns is only about ¼ of an inch it's best to measure to be absolutely sure.

Some early Ford Dana 60 axles use the square bolt pattern so if you have that order the Dodge kit.
What's the Difference Between the Dana 60 and Dana 70 Axle?
If the rear Dana 60 is all original then it is a full float and has 16 or 30 splines. A semi float Dana 60 rear could have 35 splines, but they are very rare. When is a Dana 60 not a Dana 60? When it has 32 or 35 splines because the axle shaft was upgraded to a Dana 70, probably by a previous owner. If you want to buy parts to repair or upgrade anything on that axle, you have to know if it's a Dana 60, 70, or something else. This is a common practice and further illustrates why you need to know how to tell the difference.
Disc Brake Conversion Kits for Your Dana Axles
Now that we have reviewed and determined which Dana axle you have, you can choose the hardware you want for your upgrades. Lugnut4x4 carries high-quality disc brake conversion kits for Dana 60 axles and Dana 70 axles and you can be confident in ordering the correct parts.
The 12 Bolt Sterling Axle
The Ford Sterling axle has two generations, currently. And are relatively easy to identify if the axle and brakes were kept 100% stock.
The Sterling 10.25″ axles have an 8 x 6.5″ lug pattern, came with drum brakes, and were only used in Ford trucks built between 1985 and 1997. Though there was a variation that didn't affect the fit, from 1992 to 1997 the axle was upgraded with a stronger pinion yolk, giving the new axle the nickname "long pinion-yolk".
The Sterling 10.50″ axles have an 8 x 170mm lug pattern, came with disc brakes, and were used in trucks built in 1998 and newer super duty trucks. In 2011, they added the option for electronic locking differentials to the Sterling 10.50" axle.
Now if you have one of these Ford trucks but you don't know if the axle equipment is original, you have the option of measuring the ring gear behind the differential cover. This is not ideal and takes a lot more time to do.
OE Disc Brakes vs Aftermarket Disc Brakes
When a Ford truck has OE disc brakes the calipers have two pistons (also known as dual-piston calipers). When you convert a Ford truck to disc brakes or upgrade it to aftermarket disc brakes, MOST aftermarket disc brakes have single-piston calipers.
The F250 and F350 Axles: 1986 – 1997
The 1986 to 1997 Ford F250 and F350 came stock with the 10.25" Sterling axles. It was the only axle offered on these models as stock. It is a heavy-duty, full floating rear axle that can handle up to 5,000 pounds of gross vehicle weight.
Unlike the Dana 60 Ford rear axles, the Sterling 10.25 has an industry-standard design that can be used on many different vehicles. Its 12 bolts on the differential cover coupled with the 8 lugs on the axles make it truly unique as it is the only axle in production with this combination. As for maintenance and repair, the bearings are the wheel hubs and they are 100% serviceable.
Does Your Ford Really have a 10.25" Axle
Ford F250s and F350s built between 1986 and 1997 should have Sterling 10.25" rear axles. Why do we say "should?" Because if you are buying a used truck, who knows what the previous owner installed on it. That's why it's important to use all of the tricks and tips we have listed here to determine if your truck is a Sterling 10.25", Dana 60, Dana 70, a Dana 80, or something completely different.
Disc Brake Conversion Kits for the Sterling 10.25" Axle
If you have a Ford Sterling 10.25" axle, it came with drum brakes from the factory. If your Sterling 10.25" has disc brakes, someone upgraded them along the way. If you have high-quality disc brakes on a Ford Sterling 10.25", you probably have a Lugnut4x4 Sterling 10.25" disc brake conversion kit. If you don't have any of these, contact us or check out our inventory of disc brake conversion kits for the Sterling 10.25", the Dana 60 disc brake conversion kit, the Dana 70 disc brake conversion kit, and more.
Are Disc Brakes Better Than Drums Brakes?
There are several advantages to converting to disc brakes over drum brakes, especially when it comes to heavy-duty trucks towing heavy loads.
Some of the benefits that come with Lugnut4x4 disc brake conversion kits:
Better braking performance
More consistent braking
Easier maintenance
Less unsprung weight
Less rotational inertia
Got any questions about examining your Dana axle, Sterling 10.25" axle, or converting from drum to disc brakes? Feel free to contact us!