Why You Should Keep Your Disc Brake Conversion Brake Hoses 18" or Shorter
Are you upgrading the drum brakes on your truck? Or upgrading the brakes on a solid axle so you can swap into another vehicle? If so, you might be looking for a set of brake hoses that more than 12" in length.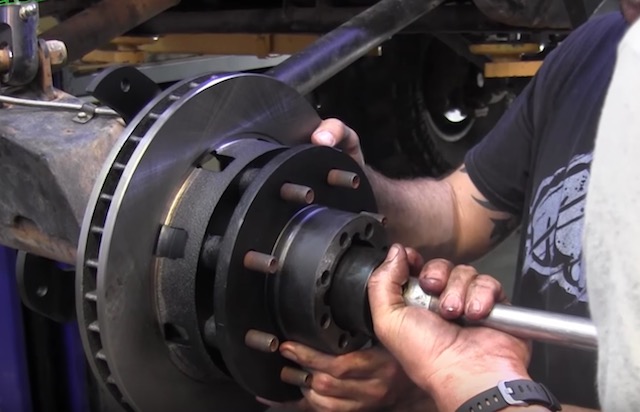 While you can definitely find extended length brake hoses, we recommend keeping brake hoses 18" or shorter in most applications. This is mostly for safety reasons, but there are some off-road benefits too.
This article will explain why an extended length brake hose isn't a great idea, and we'll also offer some tips on brake hose upgrades.
PLEASE NOTE: Disc brake conversion kits offered by Lugnut4x4 are intended as bolt-in replacements. This is because our kit is designed to work with the standard OEM brake system (including master cylinder and proportioning valve). As long as you're installing one of our disc brake conversion kits on an original vehicle application (meaning it's not an axle swap), the existing brake system will work just fine.

When you buy a Lugnut4x4 disc brake conversion kit to upgrade your original drum brakes, we send you everything you need (except the brake fluid).
Here's Why A 12″ Brake Hose Is Best
If you're swapping a Dana 60, Dana 70, Eaton, GM 14 bolt, or other heavy duty solid axle into your vehicle, you may determine that a standard 12″ brake hose is too short. This can lead to going on Google (or going down to the parts store) to find an 18″, 24″ or longer brake hose.
Generally speaking, a 12″ brake hose should be long enough. That's because the brake hose is designed to connect your brake calipers to the hard brake lines mounted on the axle. The brake hose is not designed to connect the caliper to the hard brake line on the frame.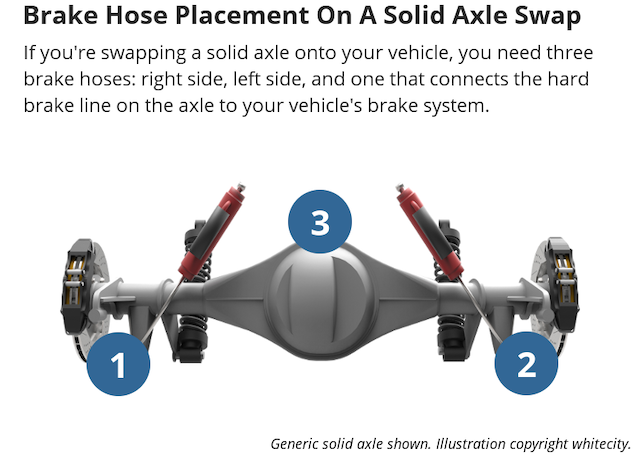 Because the brake line just connects the caliper to the axle, you only need about 12″ of line (sometimes a bit more). Then, you use another brake line to connect the hard brake line that's on the axle to the vehicle.
NOTE: If you're swapping a solid axle onto a vehicle that currently has an independent suspension, odds are the current setup has hoses running from the calipers to the vehicle. When you swap in your solid axle, you're going to want to switch that up.
Extended Length Brake Hose Risks
There are two great reasons not to use an extended length brake hose on your solid axle setup:
Safety. The longer your brake hose, the greater the risk of the hose getting pinched, caught, wrapped, etc. Once that happens, the hose will break, and your brake system will have little or no hydraulic pressure. That's bad.
Off-road. If you use long brake hoses to connect each caliper to the brake system, you might strain the connections or the hose itself at full axle articulation. If you just have one brake hose between the axle (usually near the differential) and the vehicle, you don't have to worry about axle articulation straining the connection.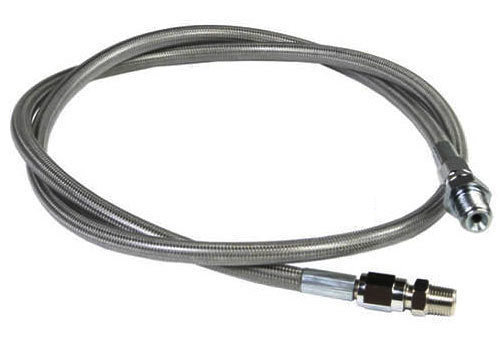 Additionally, if you know you're going to be headed off-road, we recommend braided stainless steel hoses instead of rubber hoses. Braided stainless steel hoses can withstand more stress and strain than rubber brake hoses, which is important if you're driving off the pavement.