If I Buy A Disc Brake Conversion Kit For My Truck, Do I Need To Buy Bigger Wheels?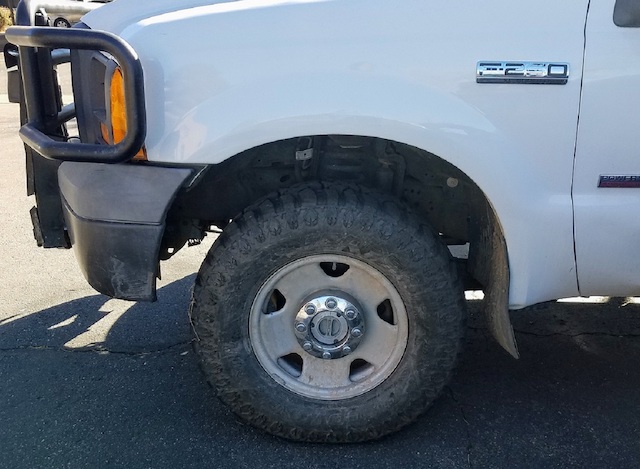 Are you planning on installing a disc brake conversion kit on your truck? If so, you may be wondering if you have to upgrade to bigger wheels. It's a pretty common concern people have while upgrading to disc brakes.
A lot of older trucks with 8 lug axles (such as Dana 60, 14 bolt, Sterling 10.25, etc.) are riding on 15″ or 16″ rims. Most new trucks come with 17″, 18″, or 20″ rims. On these newer trucks, there's not a lot of clearance between the rotor/caliper assembly and the interior wheel surface. That means the rotor/caliper assembly is quite large on these trucks.
So it's normal to hesitate before upgrading to disc brakes. What if disc brake conversion kits are made for newer trucks with bigger rims? There's no way the rotor/caliper assembly on newer trucks can fit into the older trucks with 15″ or 16″ rims, right?
In most cases, you have nothing to worry about.
It Depends On Which Disc Brake Conversion Kit You Get
Many of our disc brake conversion kits fit stock size wheels. At Lugnut4x4, we design most of our disc brake conversion kits to work with the original OEM wheels, even 15″ rims. Most Lugnut kits come with GM 12.5″ standard 3/4 ton truck rotors that can fit into smaller rims.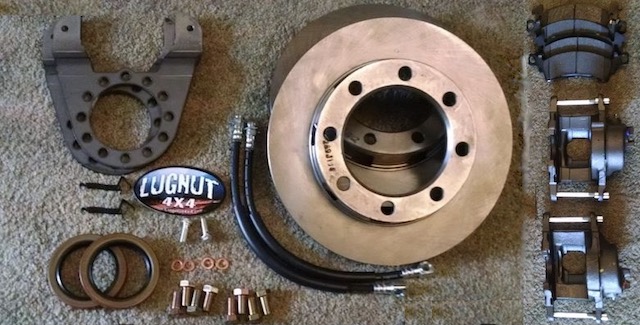 It's always better to get a kit that was designed for a specific axle. For example, this Lugnut kit fits the GM 14 bolt corporate axle (1973-2000 trucks). You can be sure this kit will work well with your axle. We strongly recommend avoiding universal kits. There's a high risk you'll run into fitment and performance problems with a universal disc brake conversion kit.
As all of our kits are designed for a specific axle, you probably won't need to buy new rims. But, a few of our kits may require larger wheels.
There Are Exceptions, Though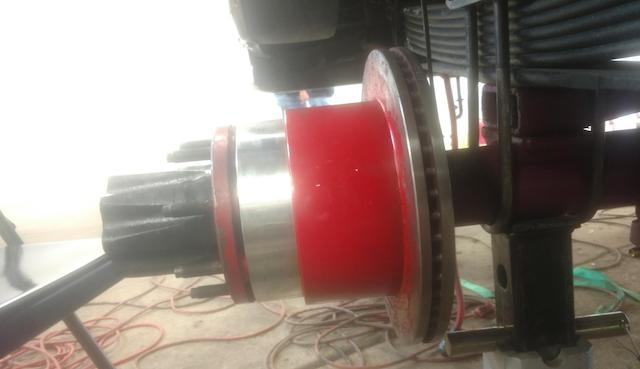 Some disc brake conversion kits aren't made to fit into smaller stock wheels. A few Lugnut kits are specific to bigger wheels. For example:
Lugnut 6 lug axle kits can only fit 16″ or larger rims. It's because the rotors on those kits are slightly larger than the 8 lug kits.
All Lugnut dually brake conversion kits work great with 16″ or larger wheels; some may fit 16″ wheels, too.
Most disc brake conversion kits don't work with 15″ wheels that have more than 3″ of backspacing. Lugnut 8 lug kits may work with wheels with 3.5″ of backspacing, but that's only on some wheels.
The bottom line? A disc brake conversion kit is likely going to fit your stock wheel, but that's not always the case. It's a good idea to do some research first. And, if you've already got aftermarket 16″ wheels on your truck, you need to know the specs for your wheel. We'll help you figure out if our kits will work with your wheels. If you've got aftermarket 17″ rims, our kits will fit.
What If There's A Clearance Issue?
In the rare occurrence that you find it difficult for your wheels to fit over the new rotor/caliper assembly, there are ways to solve this problem:
Upgrade to bigger wheels
Get a new set of wheels with different backspacing (if the interference is larger)
Get wheel spacers (if the interference is larger)
Grind away some of the caliper
The fourth solution sounds strange, but it's actually harmless. There's really no safety issue or concern with grinding away some of the caliper. Usually the clearance problem requires removing only a very small portion of the caliper. This won't affect its strength at all.
Do you have any questions that weren't answered in this post? We would love to answer them if you call us, email us, or fill out this contact form.