E-Brake Calipers vs. Driveline Brakes – Pros and Cons
Are you converting the rear drum brakes on your truck over to disc brakes? If so, you might be wondering how you'll configure your emergency brake after the conversion.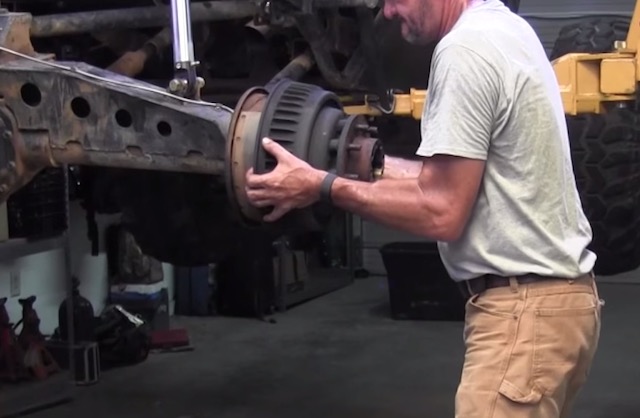 You have a few options, but today we're going to talk about the two most common solutions to this problem:
Adding "E-brake calipers" (aka parking brake calipers or Eldorado calipers) to your disc brake setup, or
Adding a driveline brake
We'll talk about the pros and cons of these two options, what people say about both options, and hopefully give you some good info you can use to make your choice.
NOTE: We're a bit biased here because we sell calipers with a built-in e-brake, but we're still going to try and share some good info about both choices. Since our e-brake calipers and pistons are based on the '76-'78 Eldorado, that's where the focus is in this post. While there is some overlap in size with some of the '79 Eldorado calipers produced, other '79 calipers and those offered in the following years were a different size.
First, What's An E-Brake Caliper?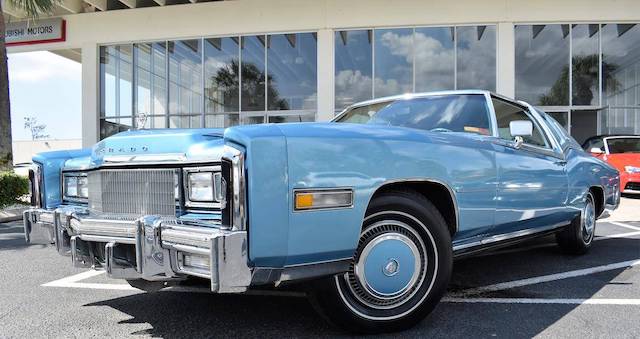 You might have heard about e-brake or parking brake calipers under the name "Eldorado e-brake calipers". That name has stuck because this type of caliper is somewhat known for its' use on the '76-'78 Cadillac Eldorado. The Eldorado in that era was offered with four wheel disc brakes, including rear calipers with a lever that actuated the pistons in the caliper. The lever could be set and released with a standard parking brake cable.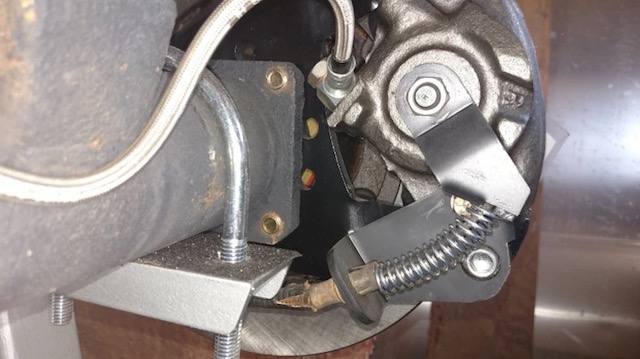 Because of the size and strength of the Eldorado's brake system, these same calipers are perfectly suited for use in one of our disc brake conversion kits. And because they're designed to actuate with a brake cable, it's a straightforward way to keep your vehicle's existing parking brake mechanism while also upgrading the rear brakes.
NOTE: At Lugnut4x4 we offer a variation of these Eldorado calipers, but with a few improvements. You can learn more about our improved version of these calipers here.
What's A Driveline Brake?
A driveline brake (also known as a transmission brake) is designed to stop the driveline by stopping the rotation of the driveshaft. On most 4x4s, the driveline brake is mounted at the rear output of the transfer case, but there are pinion mounted driveline brake options available as well. Most driveline brakes use a single rotor and caliper designed to be mechanically actuated with a brake cable.
The Pros And Cons Of E-Brake Calipers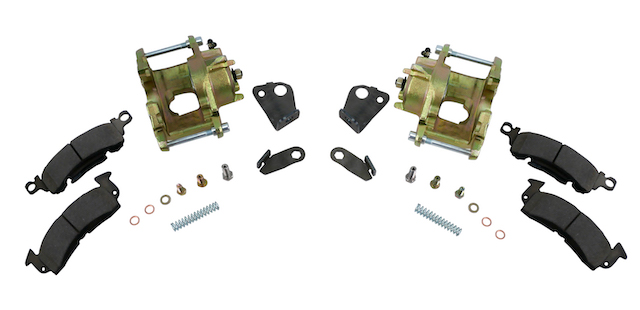 E-brake calipers have three really good pros:
Low cost: E-brake calipers are comparable in price to a set of regular replacement calipers. A set of new, good quality JB6 calipers and pads will cost you about $150. A set of our e-brake calipers (which includes pads and hardware) are $299. While that's definitely more expensive than a good set of calipers, it's less expensive than most driveline brake kits.
Easy Install: A set of e-brake calipers aren't any harder to install that standard calipers – all you do is connect the parking brake cable to the lever and verify proper function. No need to re-route or replace your existing brake cable.
Good Performance: While many people say that e-brake calipers are too weak for use on a heavy duty vehicle, we've found that many of the problems people have had were caused by a weak lever actuator…the lever on most of the ebrake calipers on the market is too easily bent. We've addressed this problem with our calipers and they perform quite well.
And only a couple of cons:
Periodic adjustments needed: Just like any cable operated parking brake, you need to periodically adjust the brake cable tension.
It's easier to forget your brake is set: When you use your e-brake, you have to remember to disengage it before driving. If you don't, you'll wear out your pads and strain your parking brake cable. If you have a driveline brake, you're probably not going to forget it's engaged just because of the way it works.
For most vehicles, an e-brake caliper is a good option. While it doesn't have as much holding power as a driveline brake, it's adequate for daily use on nearly all vehicles.
The Pros And Cons Of Driveline Brakes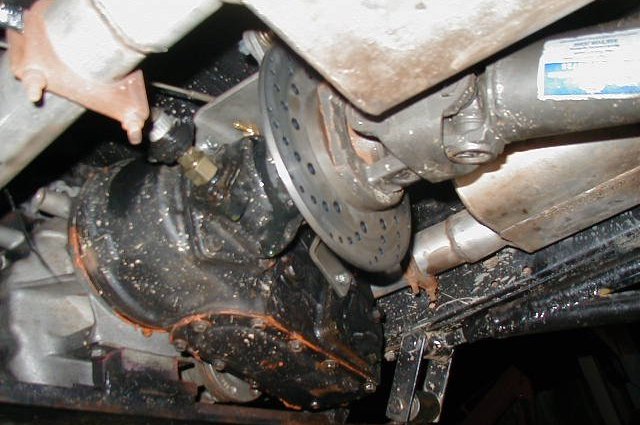 Driveline brakes – when used as an emergency brake – have a couple of very big pros:
Excellent brake holding power: Because a driveline brake has the same application factor as the gearset, they have really good holding power. Whatever your gear ratio(s) are, the driveline brake has the same multiplier, and that is usually pretty solid.
Out of the mud: Driveline brakes are mounted inboard, and are further up and away from the road surface. That means they're less likely to get dirty or wet.
And a few cons:
Cost: An inexpensive driveline brake setup is usually several hundred dollars, and typically much more expensive than a set of e-brake calipers.
Ground clearance (pinion brake): If a driveline brake is mounted at the pinion, it reduces ground clearance.
Driveshaft dependency (t-case brake): If a driveline brake is mounted at the transfer case (this option is popular with off-road enthusiasts), it requires an intact driveshaft to function. If your vehicle breaks a driveshaft, your driveline emergency brake no longer functions.
Periodic adjustments needed: All cable operated brakes need periodic adjustment.
A driveline brake is definitely an option worth considering, but we've found that a good set of e-brake calipers work just as well as a driveline brake if they're properly adjusted (and if the actuating lever is good quality).
But Aren't E-Brake Calipers Too Weak For My Big Setup?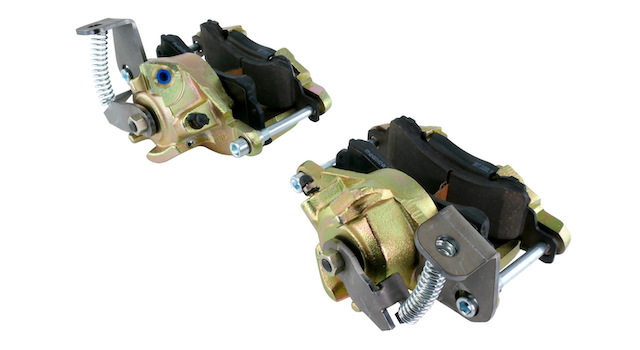 There are a quite a few people who have said that Eldorado style e-brake calipers just can't handle an off-road vehicle with big tires. We'd argue that many Eldorado style brake calipers use a stamped steel actuation lever that – because of the way it's made – can bend. Our e-brake calipers are more robust. Lugnut4x4 levers are made from flat steel plate and then formed to the angles needed whereas the others are thin steel, stamped to the needed design.
We'd also argue that, if someone has had a problem with the holding ability of an e-brake caliper, it may be that they used a cheap version of these calipers (there are a lot of frighteningly inexpensive Eldorado calipers floating around) that just don't work that well.
Basically, the concept of an e-brake caliper is good. But not all e-brake calipers are the same quality…and if you go with a low quality set of e-brake calipers, you probably won't be happy with their performance.
Summing Up
If you're choosing between a driveline brake and e-brake calipers, the pros and cons listed above should help you reach a decision. Whatever you decide, be sure to keep your parking brake cable adjusted, and to use wheel chocks if/when you're using your parking brake to hold a vehicle with a trailer attached.