JB6 vs JB7 Calipers – What You Need To Know
If you're looking at one of our disc brake conversion kits, you may be wondering about the difference between our JB6 and JB7 brake calipers. Both are popular with truck and large SUV owners, but there are pros and cons to each caliper.
Here's some information to help you decide which one is better for you, whether you're buying one of our kits, or thinking about swapping out your calipers.
What Are JB6 Brake Calipers?
According to BillaVista.com,
JB6 brake calipers were original equipment on the front of late '70s to mid 1980s GM trucks and larger SUVs with a GVWR of 7,200 lbs or less. This means you'll find original JB6 calipers on many 1/2 and 3/4 ton C/K pickups, Blazers, and Suburbans, as well as some larger cars and vans from the same era.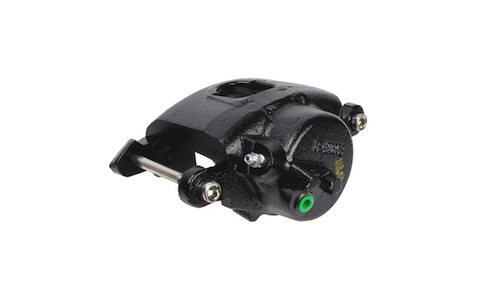 JB6 calipers feature a relatively large 2 15/16″ steel piston. When combined with a set of rotors and pads in one of our conversion kits, they're a nice upgrade over a drum brake system. We often get calls telling us how much better the truck stops after the upgrade.
Also, if you're buying one of our disc brake conversion kits, it's important to note that the JB6 calipers work perfectly with most original factory drum brake systems. Part of the reason we selected the JB6 for our kits is that it's a direct replacement option…no new master cylinder is needed.
What Are JB7 Brake Calipers?
JB7 brake calipers are bigger and beefier than JB6s. While still a single piston caliper, the piston is quite a bit bigger (3 5/32"). It is intended for use in the front of vehicles with a GVRW of up to 8,600 lbs. According to BillaVista, you might find JB7s on 3/4 trucks of the '70s and '80s.
While JB7 calipers have a higher rating, that doesn't necessarily make them a great upgrade. They require more fluid to operate than JB6s. This can result in a lower pedal. Also you have to be careful that you don't end up with a rear caliper that is bigger than the front caliper. It's always important for safety reasons that your front caliper is the same size or bigger than your rear caliper.
What Should I Buy – JB6s or JB7s?
JB7 calipers are a little beefier than JB6 calipers, but both calipers require a master cylinder that has a bore of at least 1″. If you are installing these calipers on an axle that is original equipment on your vehicle, then your master cylinder should be adequate. If you are swapping the axle into another vehicle such as a Jeep then you will probably need to upgrade the master cylinder.
Also, while the JB7s clamp harder and help your vehicle stop better, it's important to remember that we're talking about rear brake calipers. Most of the time, the rear brakes don't stop your truck, van, or SUV. Typically, 60-70% of the stopping is done with your front brakes (depends on the vehicle and the situation).
NOTE: The key word here is "typically" – if you're towing or hauling, your rear brake system takes on a lot more responsibility. For this reason, we recommend JB7s as an upgrade on trucks that tow or haul heavy loads over 15,000lbs frequently. For example, work trucks that tow or haul every day. JB6 calipers will work fine regardless of the load, but are better for trucks that tow or haul heavy loads less often. We recommend JB6 calipers for most people no matter what load is being hauled.
Are JB6 and JB7 Brake Calipers Interchangeable?
JB6 and JB7 calipers have a lot in common:
Mounting hole locations. Both calipers will bolt to the same bracket.
Rotor size. Both calipers work just fine with a 12.5″ rotor.
Wheel clearance. If you are currently running JB6s, your wheels will fit over JB7s.
In summary, yes they are interchangeable.
Which Type Of Brake Caliper Is Better For Your Truck?
We recommend JB6 calipers for everyone. They do a great job regardless of the weight you haul. For safety you should always make sure your trailer brakes are working properly. If you are constantly (not occasionally) towing loads of 15,000lbs or more than the JB7 caliper is worth considering. Even with this amount of weight the JB6 is adequate.
Where To Find Quality JB6s And JB7s
Looking for quality JB6 or JB7 calipers? Look no further than Lugnut4x4! We offer:
Uncoated JB6 calipers
Coated JB6 calipers
Uncoated JB7 calipers
Coated JB7 calipers
JB6 and JB7 brake pads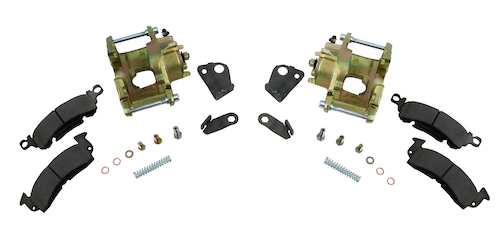 If you're upgrading brakes all around, remember that it's common to have larger brakes on the front, such as JB7s, and smaller brakes on the rear, like JB6s. Also, we offer parking brake calipers for the rear. These are similar to JB6's, with the addition of a mechanical emergency brake mechanism. The e-brake calipers we offer are the biggest ones made for the axles we provide kits for. You can check out our e-brake kits here.