Not All Eldorado E-Brake Calipers Are The Same
As many people know, the 1976-1978 Cadillac Eldorado came with a rear disc brake caliper very similar to the JB6 or JB7 caliper found in many heavy duty trucks. However, unlike the standard JB6 or JB7, the Eldorado caliper also included a clever parking brake mechanism.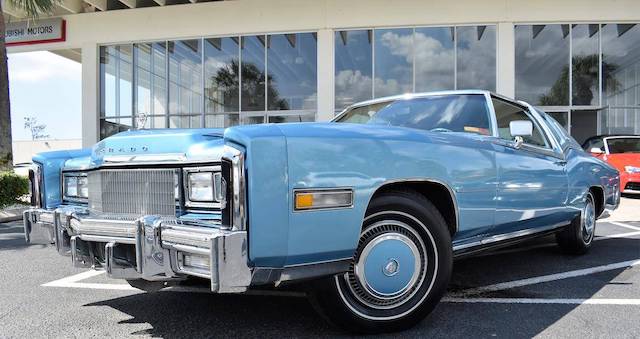 These Eldorado calipers are almost exactly the same size as the JB6 calipers. While the JB7 caliper has about ¼" larger piston size, it's not a big difference for conversions. We recommend the JB6 for all applications – except for people who tow over 20,000lbs.
A lot of people who upgrade their drum brakes to discs want to retain their parking brake, so they look for a set of Eldorado calipers. That way, they can keep their truck's original parking brake function even if they swap out the drums on their 14 bolt, Dana 60, Dana 70, Eaton, or Sterling 10.25 for discs.
In this article, we'll talk about the 3 main ways you can find an Eldorado-style caliper with the integrated emergency brake for your drum brake conversion.
1. Find a Junkyard Set
While you can certainly try, it's pretty difficult to find a set of e-brake calipers from a 76-78 Eldorado. That's because a) the Eldorado wasn't terribly popular in the first place; b) the calipers from any cars you find have probably already been pulled; c) you probably don't want a set of 40+ year old calipers anyways.
So, while it's technically possible to find an original Eldorado rear brake caliper with the integrated parking brake, it's probably easier to win the lottery.
2. Buy a Set of Reproduction Eldorado Calipers
A few companies sell reproduction Eldorado calipers, and the quality on these parts can be hit or miss:
Some companies are selling them at ridiculously high prices without a true idea of the product's actual quality. We have seen them ask over $200 for one caliper.
Be careful not to get the very small 1979-85 calipers. These are way too small to stop a big truck. They are cheaper and readily available, but unsafe.
Some companies sell them with the original brackets. These are thin stamped steel and can fatigue if the truck is parked for a long time, allowing the brakes to essentially loosen up. Lugnut4x4 makes our brackets from formed plate steel to avoid this problem.
If you need a set of calipers with an integrated e-brake, an OEM grade aftermarket part is certainly worth considering. However, we've developed an OEM grade caliper of our own with a couple of key upgrades that is a better option.
3. Buy a Set of Lugnut4x4 Calipers With The Integrated E-Brake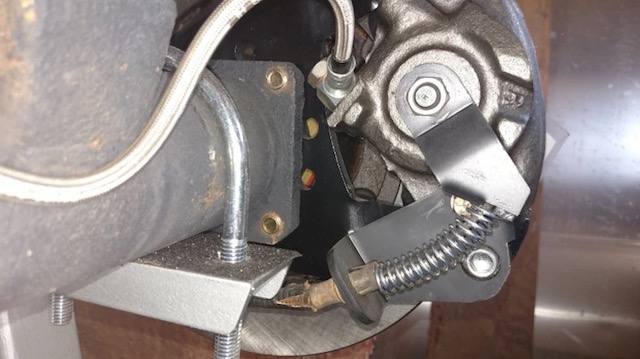 We looked at the e-brake calipers most of our competitors are selling and noticed two key problems:
Almost all of e-brake calipers we've found have the same brake lever design flaw that plagues the original Eldorado design.
Many of the e-brake calipers available for purchase are sold with the wrong brake pads.
So, we spec'd out and manufactured our own e-brake calipers. Our calipers feature a plate steel lever that's more durable than the OEM grade stamped steel. We've also included the right brake pads.
NOTE: Lugnut4x4 e-brake calipers can be bought by themselves here, or they can be added on to any one of our disc brake conversion kits.
Our bent plate steel lever is thicker than the stamped steel lever used on other Eldorado-style calipers. By using a thicker, stronger lever, our mechanism is more reliable and consistent. This way, you don't have to worry about bending the mechanism that engages the brake the way that you would with a weaker lever.
We include D122 brake pads, rather than the D52 pads that other companies typically include with their e-brake calipers. The difference between a D122 and a D52 is slight, but significant: D122 pads have a locking feature that keeps the piston from twisting when the brake is applied. D52 pads do not. This lack of a locking feature can cause the parking brake to slowly release.
You can read more here about why D122 pads are the only ones you should get if you want to use Eldorado calipers.
Summing Up, You Should Really Check Out Our E-Brake Calipers
We're definitely biased, but we think the fact that our e-brake calipers have a better lever mechanism and the correct brake pads is a pretty big deal. Add in the fact that our pricing is excellent, and you've got a very good reason to buy our calipers.
Our e-brake calipers can be found here, and they can also be added to any one of our disc brake conversion kits. Check them out!