What Axle Does The 1986-1997 F-250 And F-350 Use?
Eighth and ninth generation (1986-1997) Ford Super Duty trucks use the Ford Sterling 10.25 axle. This was the only axle offered with these trucks.
A Little Bit About The Ford Sterling 10.25 Axle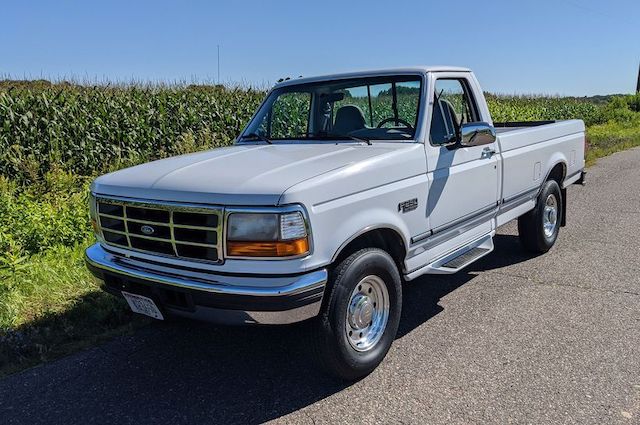 A Ford Sterling 10.25 axle is a heavy duty, full floating rear axle produced for F-250 and F-350 trucks. It can handle up to 5,000 pounds of gross vehicle weight.
In the beginning, Ford used Dana axles in their trucks. Later on, they developed the Sterling 10.25 axle to replace the Dana axles. It has an industry-standard design that can be used on many different vehicles.
This axle can be identified by its 12 bolts on the differential cover. It is a the only common 8-lug axle with a 12-bolt diff cover. It features a hub-centric design. The bearings are the wheel hubs, and they are 100 percent serviceable.
Making Sure That Your Truck Has A Ford Sterling 10.25 Axle
If you have a 1986-1997 Ford F250 or F350, it should have a Sterling 10.25 axle. Yet, it's not always the case. It's possible that someone put another type of axle on the truck before you acquired it. If you want to confirm that your truck has a Sterling 10.25 axle, this guide will help you identify the axle.
You Can Upgrade To Disc Brakes With A Sterling 10.25 Axle
All Sterling 10.25 axles came with drum brakes. If you have that axle on your truck, or if you're planning on installing that axle, consider upgrading to disc brakes. They will provide better stopping performance.
This post explains the different benefits disc brakes offer over drum brakes. To sum it up:
With Disc Brakes, There's Much Less Brake Fade
The main difference between disc brakes and drum brakes is the amount of brake fade that occurs. One problem with drum brakes is that they create a much higher amount of heat than disc brakes. This can result in huge amounts of brake fade.
Disc brakes dissipate heat better, so they can slow down your vehicle without damaging your brakes. This is why you see most trucks with disc brakes these days.
Disc Brakes Are More Reliable In Inclement Weather
Drum brakes don't handle moisture well. It's easy for water and moisture to seep into the drum brake. This affects the brake's performance.
Disc brakes don't have this problem. The discs are completely exposed to air, so they are much better than drums at handling moisture and water. Disc brakes can perform well in even the worst weather conditions.
It's Easier To Repair And Maintain Disc Brakes
If you have drum brakes, the drum needs to be removed if you want to work on them, or even just inspect them. This makes brake repair more complicated and time consuming.
Disc brakes are much more accessible. This makes brake maintenance much simpler and more convenient.
It's Easier To Find Replacement Parts For Disc Brake Systems
These days, disc brakes are much more popular than drum brakes. So disc brake parts are much more accessible. Drum brake parts are harder to find. They also can be more expensive.
Lugnut4x4 Has Quality Disc Brake Conversion Kits For Sterling 10.25 Axles
Want to upgrade to disc brakes for your Ford Sterling 10.25 axle? Lugnut4x4 has just what you need? We offer disc brake conversion kits for both dually wheel and single wheel Sterling 10.25 axles. Check them out!
PLEASE NOTE: When it comes to disc brake conversion kits offered by Lugnut4x4, all our kits are intended as bolt-in replacements. This is because our kit is designed to work with the standard OEM brake system (including master cylinder and proportioning valve). As long as you're installing one of our disc brake conversion kits on an original vehicle application (meaning it's not an axle swap), the existing brake system will work just fine. When you buy a Lugnut4x4 disc brake conversion kit to upgrade your original drum brakes, we send you everything you need (except the brake fluid).